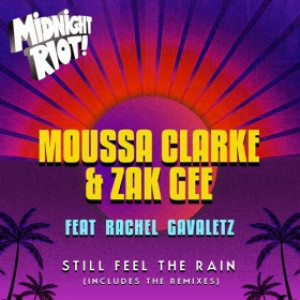 Track of
-
Moussa Clarke & Zak Gee feat. Rachel Gavaletz - Still Feel The Rain
(Laurent Schark & Yam Who? Remixes)
Label: Midnight Riot
Promo Date: 16th May 2018
Release Date: 16th May 2018
Brand new from Moussa Clarke & Zak Gee and out on the mighty Midnight Riot - this is a lovingly produced future retro disco update of the early 90s balearic anthem Still Feel The Rain - featuring big strings, funky guitar, bass and brass section and a truly awesome vocal performance courtesy of NYC songstress Rachel Gavaletz.

We now bring you the sublime remixes from French electro funk master Laurent Schark and Midnight Riot label boss and disco/boogie exponent Yam Who?, two huge re-interpretations.

With solid early support from Groove Armada, Stonebridge, Rayko, Mark Doyle (Fierce Angel), Allister Whitehead, David Dunne (Triple Dee) and many many more, this is shaping up to be a biggie!

Selected feedback